Spring Creek's Canmore Opera House
Spring Creek's Canmore Opera House
It is a replica of the original Canmore Opera House was built as a band hall in 1898, its logs cut from the slopes of Ha-Ling Peak.
During its heyday in the early 1900s, the Canmore Opera House was one of the town's
most important gathering places. A location where residents and visitors could
come together for concerts, plays, dances as well as more modest
events like whist drives and mine-sponsored Christmas parties. Far and away,
it was the most popular place for entertainment in the Canadian Rockies…and
it was the center of community spirit in Canmore.
While original Canmore Opera House has spent the past 53 years in
Calgary's Heritage Park, developer Frank Kernick has built a replica in
Spring Creek as a gathering and event space for neighbourhood residents
and the broader community.
More than anything else, Spring Creek's Canmore Opera House is a versatile space
for Spring Creekers to socialize, connect and enjoy mutual interests.
The space accommodates a vast variety of events certain to strengthen the
sense of community that already exists in this vibrant neighbourhood at
the heart of downtown Canmore.
Booking- Canmore Opera House
The Canmore Opera House is open to the town of Canmore for scheduled times available. For either viewing as a point of historical interest or as a facility to rent for other groups and organizations.
For more information, please send an email to:

Please provide details such as the requested date you are looking for, type of event and number of people.
Address: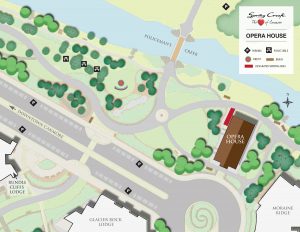 Canmore Opera House
400 Spring Creek Drive
Canmore, AB T1W 0C8
Facility Dimensions:
27' W x 56' L – 1512 sq. ft. main level
Stage: 24" H x 10' deep x 27' W – on mail level
Amenities:
120 Chairs
8 Round tables
4 Rectangle tables
Sound booth with speakers – easy to play music through an Iphone or Ipod
Large screen & projector
Wireless Internet
Bar area – with fridge, dishwasher & ice well
Downstairs servery with fridge, microwave & sink
Men's washrooms – 2 stalls
Women's washroom – 3 stalls
Downstairs meeting room
Air conditioning
Main Floor Capacity:
Standing only – 109 persons
Theater Style / Row Seating – 100 persons
Spring Creek's Canmore Opera House Hours of Operation: 
7:00 am to 10:00 pm, 7 days a week