THE TOWN OF Canmore has approved the extension of Spring Creek Drive to the Traffic Circle on Bow Valley Trail. Part of Spring Creek's long term master plan, underground infrastructure such as sewer and water will be updated, roadways will be aligned and brought to grade, and landscaping and streetscaping will be brought to Spring Creek's standards from Main St. to the Bow Valley Trail roundabout.
The first phase of the project will require a total closure from the Traffic Circle on Bow Valley Trail starting March 19 (Note: closing one week later than what was originally communicated) for approximately 4 weeks.
During this phase of the project, vehicles will only be able to access Spring Creek Drive via Main Street (8th St). Pedestrians and cyclists can access Spring Creek via the pedestrian bridge over Policeman's Creek at the Opera House.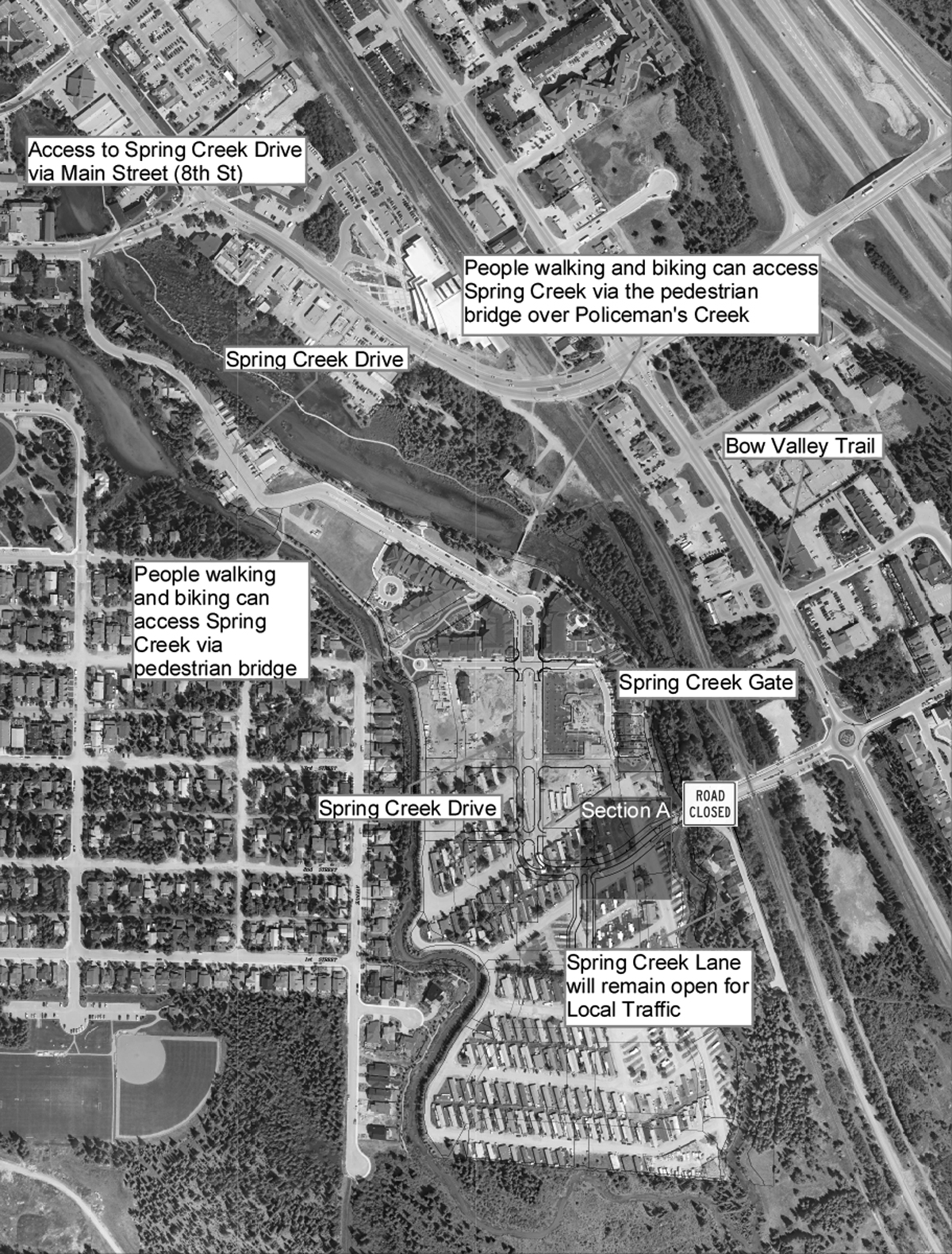 ACCESS DURING CONSTRUCTION
Residents adjacent to the construction area may experience short periods when crews will need to limit access.  We will work closely with those affected and provide as much advanced notice as possible.
During Construction access will be redirected with temporary roads. Throughout construction, traffic control measures will be in place to manage traffic flow in the area.
Traffic impacts will be minimized as much as possible, however, please plan for some delays and travel carefully through the work zones.
We apologize in advance for any short term inconvenience this may cause.  We appreciate your patience as these important sustainable transportation improvements are made to improve our community.
FOR MORE INFORMATION
For construction and access concerns please contact Spring Creek, Serge Ouimette at 403-678-0388 or email serge@springcreekmv.com
To download a printable version of the map, SCMV Road Closure March 19.