Alternate Routes Ahead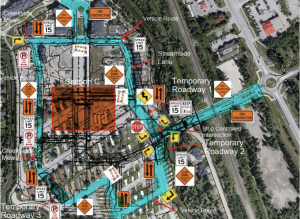 It is an exciting time in Spring Creek as we are progressing with Spring Creek Drive road extension.
We are currently in the third and final phase of this important infrastructure work.
1. Civil Underground infrastructure – water, sewer and storm 100% Completed
2. Shallow Utilities including electrical, gas, telephone and internet services 50% Completed
3. Surface works – Roadways, pedestrian and bicycle paths, sidewalks Starting – August 15th
4. Signage and pavement machining, landscaped areas and light standards – September
During construction, vehicles, pedestrians and cyclists will continue to have access into Spring Creek via the roundabout off of Bow Valley Trail as well as access via 8th (Main) Street.
In essence, we have started surface works (road base material, concrete & paving) as there will be alternate routes planned to accommodate the working crews over the next 1 ½ months. The following will establish the proposed planning and traffic control/accommodation during this time period and possible effects on road access.
ACCESS DURING CONSTRUCTION
During Construction of Section C, the intersection in front of the Seniors Center and CML (Creekstone Mountain Village) will be closed in order for concrete cub & gutter to be installed. Following the concrete will be pavers installed inside the medians.
Access during this period will be on the outskirts of the project through Creekside Mews & Cambrian Streamside Lane until further notice. Please plan for some delays and travel carefully through work zones.
WHY IS THE ROAD BEING CLOSED?
 The alternate routes must take place now as the concrete & paving company need to put in the concrete borders that will allow for asphalt to be installed in September 2018.
 The deep utilities will tie into the 2nd phase of the overall development and will provide services to the next two condo buildings including White Spruce Lodge and Jack Pine Lodge.
QUESTIONS OR CONCERNS:
Serge Ouimette,
Senior Project Manager
403-688-0388
serge@springcreekmv.com.
We apologize in advance for any short-term inconvenience this may cause. We appreciate and thank you for your patience as these important sustainable transportation improvements are made to improve our community.