THE END IS NEAR!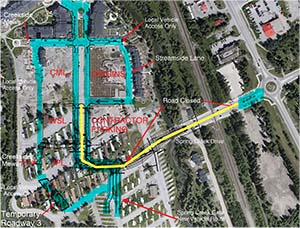 The final paving will take place Friday & Saturday. Not only will this create a free flow of traffic from Main Street to Bow Valley Trail, this efficient transportation network will also improve the safety of all user groups.
Road Closures Expected

Friday & Saturday
June 28 & 29
Please be aware there will be times when the Bow Valley Trail access into Spring Creek will need to be closed for construction traffic only. Homes along Spring Creek Lane will have access in and out to Bow Valley Trail but there will be no access into Spring Creek over the bridge at this time.  The yellow areas on the map indicate areas which will be closed for paving.
There will be personnel on site to assist with traffic flow.
We understand that this is a busy weekend and appreciate your support and cooperation through this final push.
STREET NAME CHANGE
Spring Creek Drive will be continuous from Main Street right up to the roundabout on Bow Valley Trail / Route 1A. Spring Creek Gate will form the new road to be built heading south on the property into the mobile home/RV park and future development.
QUESTIONS OR CONCERNS:
Serge Ouimette,
Senior Project Manager
403-688-0388
serge@springcreekmv.com.
We'd  like to thank all of our residents – they've been very patient during this project. When this is complete Spring Creek Drive will be a beautiful passage in keeping with the current landscaping, from the Bow Valley Trail round about all the way to Main Street.