Now 54 years into a marriage made in heaven, high school sweethearts Ken and Pat Ritchie are preparing to honeymoon all over again in their new Creekstone Mountain Lodge home.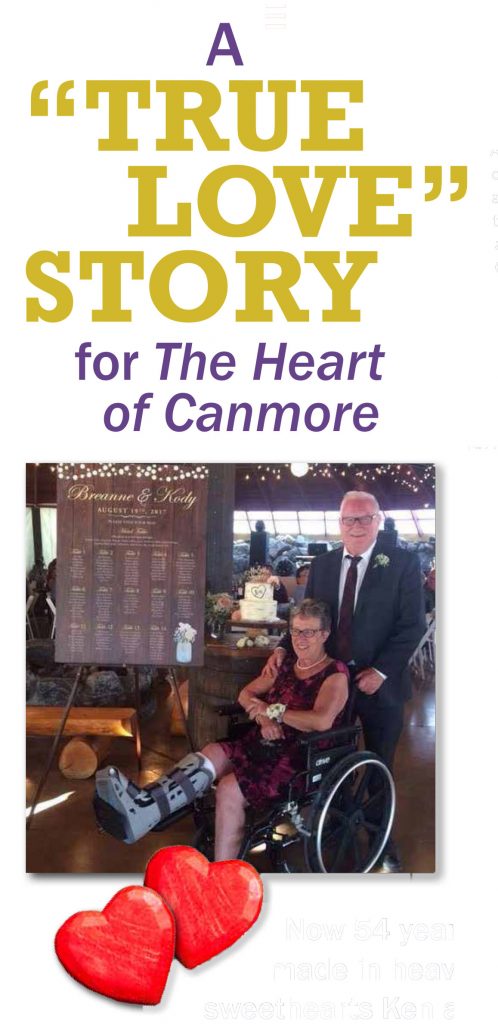 When we think about what it means to "live like a local" here in Spring Creek, it's only natural to think of up-and coming Spring Creek residents Ken and Pat Ritchie, who proudly describe themselves as "ingrained Canmorites." And for good reason.
Pat grew up just a stone's throw away in Seebe, while Ken arrived in Canmore in the back of his parents' station wagon when he was just 10 years old. They both attended high school here in Canmore. In fact, that's where they met – at Canmore School. Pat was in grade 10; Ken was in grade 11. When he first laid eyes on Pat, Ken thought "I'm gonna marry that girl someday." And sure enough: on August 3, 1963, the young couple tied the knot.
After high school, Ken ventured off to SAIT in Calgary to train as a millwright. It wasn't long, though, before he got a job as a maintenance worker with Calgary Power (now TransAlta) – a career he stuck with for 35 years.
For 14 years the couple lived in the TransAlta housing development in Spray Village until they caught wind of a draw for lots in Canmore. "We entered the draw, our name got drawn and in October 1977 we moved into a new house in Canmore. That was 40 years ago," says Pat.
For both of the Ritchies, those 40 years were busy ones. There was work, of course. While Ken continued working for Transalta, Pat spent 35 years as a teacher, an assistant principal and eventually a principal in various Canmore schools until she retired in 2000. (She never taught Frank Kernick; and while she recalls working as a substitute teacher in a school that he attended, she can't say for sure if Frank was as badly behaved then as he is now. Still, it's a pretty safe bet that he was.)
There were children, too – two daughters, Debra and Sheralie. ("After I went back to school to get my Masters in Education, I got to go through the convocation ceremony with my daughter Debra, who's also a teacher," says Pat. "It was so exciting!")
This being Canmore, there was also skiing. And as a consequence of children + skiing, there was volunteering. Ken explains: "We wanted to find a way to keep our daughters busy while we were at the ski hill, so we started the Lions Club Ski School. It ran for 30 years, first at Fortress Mountain, then Nakiska, and finally at Sunshine Village. I was the Lions President when I started the Ski School in 1979, and Pat and I chaperoned on Saturdays for the next 10 years."
One of Ken's most noteworthy initiatives as president was the creation, in 1979, of Canmore's Lions Park. "I don't think I was very popular with the members," he says, "as the Lions Club had to go out and lay 30,000 square feet of sod!"
Ken has also been involved with the Canmore Legion since he was 21 years old. He's currently on their advisory group, which is working on plans for a new Legion building on the same site as the existing one.
For his extensive volunteer experience in the community, Ken was voted Canmore's Volunteer of the Year in 1990.
Perhaps you're thinking there couldn't possibly be room in Ken and Pat's lives for anything more. Well, think again. There was curling. (An avid curler for more than 50 years, Ken is lifetime member of Canmore Curling Club.) And quilting. (Pat is a member of the Mountain Cabin Quilters.)
And grandparenting. Ken and Pat have four grandchildren, one of whom got married in Canmore in August 2017 – an event for which Pat showed up with her leg in a cast.
"It's kind of a funny story," says Pat (even though it isn't). "I was at Spring Creek's design centre choosing finishings for our new Creekstone Mountain Lodge condominium five days before the wedding. When I got to my next stop, I got tripped up on a curb and broke my ankle. At my granddaughter's wedding, which we held in our backyard, I had to walk down the aisle on crutches!"
Though the backyard of their 40-year home was a lovely spot to hold a family wedding, it didn't dampen the Ritchies' enthusiasm about making the move to a Spring Creek condominium.
"It's time to downsize," says Pat. "We're really excited about the lock-and-leave lifestyle, because we really love to travel." (Pat and Ken belong to a travel group – six
couples who frequently jet off together to destinations like South Africa, Egypt, Southeast Asia and Europe.)
For his part, Ken's excited about the prospect of never again having to shovel snow or mow a lawn. "I actually have an emotional connection to the property," he  adds, "because when I was growing up in Canmore, the Spring Creek lands were our playground."
Looking at it now, Ken is impressed by all the pathways for walking and biking, and he's thrilled that there are so many benches throughout the neighbourhood. They're both delighted that it's so close to downtown.
Frank's looking eagerly forward to their arrival as well, because Pat has promised a gold star if he's good to them. "I guess it's never too late to get your first gold star from a teacher!" says Frank.