Jerry Chakowski – Spring Creek's Biggest Heart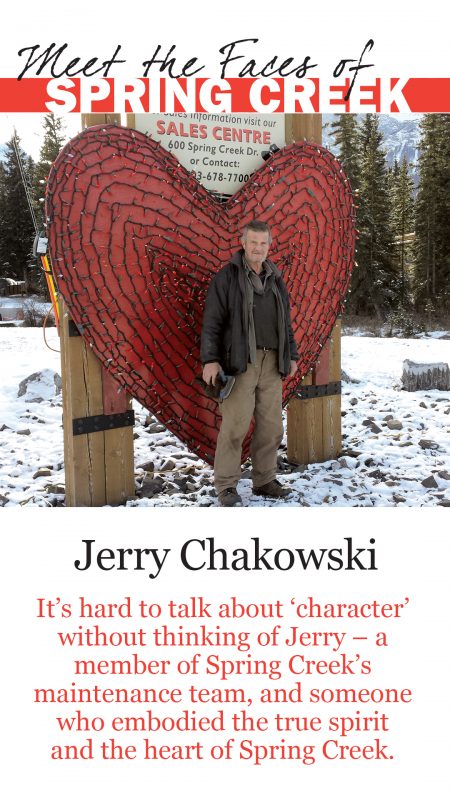 It is with a heavy heart that we announce the passing of Jerry Chakowski.
A few months after Spring Creek launched its new Heart of Canmore campaign – Jerry took it upon himself to create a huge red heart wrapped with Christmas lights … a heart-warming act that says a lot about the kind of guy Jerry was.
True to character – quiet, humble and hardworking – Jerry downplayed the gesture. "I was putting up Christmas lights around the neighbourhood and thought, 'It would be nice to make a heart out of lights.' I was going to make a small one, but then I figured 'Why not make a really big one?' So I did."
Jerry's big heart was an apt symbol for well, Jerry's big heart. As any member of the Spring Creek team will tell you, he was always ready to lend a hand and help out in any way he could.
THE PATH TO CANMORE
Jerry was born here in Canmore. So were his parents. His grandfather came to Canada from Austria in 1910, and in 1912 he settled in Canmore to go to work in the coal mines. The Chakowski have been here ever since. He moved away for a while in his early 20's – he went to BC to work in other mines. "But coming back to Canmore was just a matter of time," he told us.
THE PULL OF CANMORE
He loved hiking in Canmore's mountains. According to Jerry, they were spiritual places for him. He loved the great hiking trails…Grassi Lakes, Exshaw Creek, Cougar Creek, up Spray Lakes into Kananaskis County. Growing up, his Dad would often take them fishing early in the morning, and in the summertime, they practically lived at Spray Lakes.
In winter, they spent a lot of time on Canmore's ponds. Jerry's Dad, Andy, played professional hockey in the 1940s – in the American League with Chicago's farm team in Kansas City, and one season with Chicago in the NHL. Jerry would tell us, "He had me skating even before I could walk!"
THE PATH TO SPRING CREEK
Jerry joined the Spring Creek team in 2011. Since the mines closed, he'd been doing a lot of construction work around Canmore, and because of his experience in concrete work, Spring Creek developer, Frank Kernick, brought him in to work on some homes in the neighbourhood. Frank eventually invited Jerry to join the team to help out with maintenance at Spring Creek and in the RV park.
When interviewed for an article in 2015 publication of THE HEART OF CANMORE, Spring Creek's annual magazine, Jerry toned, "This is one of the best jobs I've ever had. I do so many different things in the day, the time just flies. And everyone on the Spring Creek team gets along. Everyone helps everyone."
We sadly say goodbye to this big heart. We will miss you here at Spring Creek, Jerry.
Thanks to all that joined us as we remembered Jerry at The Drake with the Chakowski family, Sept 4, 2019.