Evelyn Fleming, one of the first home owners in Canmore senior living, +65 Origin at Spring Creek, moved from Banff after 50 years of medical practice, raising five children, and active membership in their mountain home in the heart of Banff National Park.
When Evelyn Fleming and her hubby Ray relocated to the Bow Valley in 1956, Canmore still had 23 years to go as a mining town, and the Mount Royal and King Edward Hotels were the only buildings in Banff taller than a single storey.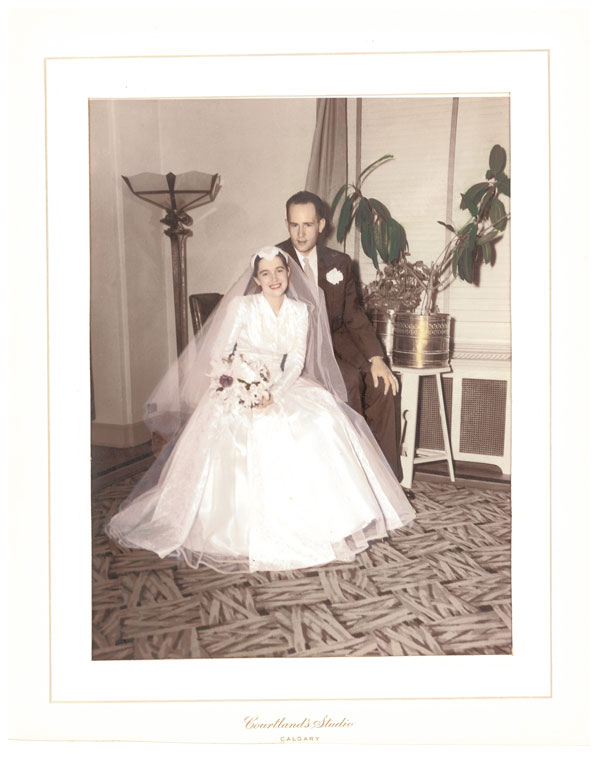 Evelyn met Raymond – a well-respected Banff physician for nearly 40 years – at Calgary's Holy Cross Hospital, where she was a nurse in training and he was completing his internship after graduating from University of Alberta in 1952. After they married, they spent a year down south in Kentucky (where they welcomed David, the first of their five children) and then a little time in Red Deer before setting their sights on the township of Banff.
"We saw a great opportunity when the Banff Clinic came up for sale in 1956," says Evelyn. For the next 39 years – the remainder of his career – Ray practiced there and at the Mineral Springs Hospital. Up until the 1980s, he was one of just four full-time doctors in Banff.
"For our first nine years in Banff, we lived in a small space at the back of the clinic. We had one child when we moved in and five by the time we moved out!
"It was close quarters, to say the least. We had one room for the kids to sleep in and one room for everything else," Evelyn explains with a laugh. "But as Ray was the doctor and I was the nurse/ receptionist, it was very convenient. In fact, with the help of a woman who'd worked as a midwife in Holland, Ray delivered the last three of our children right there in the clinic. We refer to them lovingly as our 'Do-It-Yourself projects'!"
While back-of-the-clinic living didn't come with much elbow room, it allowed the Flemings to pay off the clinic in less than a decade. In 1965, they gathered their brood – David, Diane, Dwayne, Dean and Don – and moved into the six-bedroom, five-bath house they built in Banff.
Of the time she and Ray spent together in Banff, going dancing at the Banff Springs Hotel and Chateau Lake Louise rank among her fondest memories.
"Each hotel had evenings when a 10- or 14-piece band would play in the ballroom. Patrons who dined at the hotels could go and dance – a privilege both hotels extended to the town's doctors. We both loved dancing to the live ballroom and big band music!"
(Interesting fact: Canadian big band leader Moxie Whitney, whose orchestra played at the Banff Springs during the summers of 1947 to 1960 and 1962, had a house on Banff's Kootenay Avenue.)
Among the things she's proudest of, Evelyn counts the fact that she and Ray were instrumental in changing the rules about organ donation in Canada.
"When we were down in Kentucky," she recounts, "Ray contracted a strep throat infection that went into his kidneys. For the next 29 years his kidneys were slowly failing. I was willing to donate one of mine – and I was a perfect match – but regulations at the time limited live organ donations to blood relatives."
Eventually Ray was spending 21 hours a week commuting to Calgary for dialysis, so they challenged Calgary Foothills Hospital to take a chance and allow Evelyn to donate a kidney to Ray. When the hospital finally agreed the decision would open up the possibilities of kidney donation in Canada.
After that, Raymond lived another 13 years before he died of a heart attack in 2000.
"Medicine was definitely his first love," Evelyn says with a loving smile. "He really missed his patients whenever we went on holiday." They actually didn't take any holidays during their first five years in Banff because Ray wanted to be available to his patients.
"He was such a personable man. He knew so many people in town, and I never heard him say anything bad about anyone. I say that honestly, with amazement!"
Drawn by an appreciation for the Origin brand of personalized care, support and life enrichment, Evelyn pulled up stakes and headed down Valley. "I am still surrounded by my beloved Rockies, closer to my daughter that now lives in Canmore, and living life to the fullest now that I no longer have to look after a big house and yard."
One of the gems of the Origin Active Lifestyle community, Evelyn's infectious humour and abundance of early Banff stories certainly keeps her at the centre of attention at the Origin morning coffee klatch and all over during her daily travels.
Origin at Spring Creek is a 110-suite condominium building with 56 full-ownership independent living condominiums and 54 luxury all-inclusive rental suites. Of those, 12 are 'memory suites' with assistance for residents in need of memory care.
For information on owning or leasing a home in our Origin's Active Lifestyle Community, CLICK +65 Origin at Spring Creek